Brief Introduction:

SG 3 roll mill is equipped with latest overseas chain wheel transmission system, all the gears are dipped inside lubricant which will prolong the machine life to maximum limit, reduce noise and energy...

Share:

<![endif]-->
The product description
Three roll mill (triple roll mill) uses shear force created by three horizontally positioned rolls rotating in opposite directions and different speeds relative to each other, in order to mix, refine, disperse, or homogenize viscous materials fed into it.
The material is fed into gap between feeding roller and middle roller from feeding hopper, to start first squeeze and milling, then transfer into outlet roller for second milling. The material can be collected in outlet blade after second milling to finish the operation process. The material can be mixing and milling between three rollers until reach the fineness. The milling times and fineness are related with material quality and previous process.
SG improvement type machine (SG manual three roll mill) is equipped with latest overseas chain wheel transmission system, all the gears are dipped inside lubricant which will prolong the machine life to maximum limit, reduce noise and energy consumption. All the sealing parts are imported. The formerly top roller adjustable structure have changed into gear adjusting roller which operate more stably and easily, working longer time. The water temperature indicator can be set in both inlet and outlet to assure stable temperature and good quality. The cooling water cycling system and roller heating system can be available as customer request. The products outlet is made of stainless steel. The outside of machine is coated with anti-dissolvent paint which make machine shining and prevent any possible dissolvent corrosion.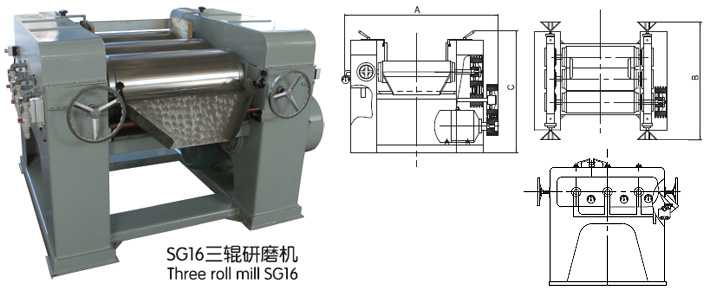 TECHNICAL SPECIFICATION
| | | | | | | | |
| --- | --- | --- | --- | --- | --- | --- | --- |
| Model | SG5" | SG6" | SG8" | SG9" | SG12" | SG16" | SG16"L |
| Roll diameter, mm | 120 | 150 | 200 | 260 | 305 | 406 | 406 |
| Roll length, mm | 280 | 300 | 600 | 675 | 760 | 810 | 1000 |
| Slow roll, rpm | 26 | 38 | 22 | 27 | 22.5 | 19 | 19 |
| Middle roll, rpm | 70 | 87 | 67 | 76 | 70 | 58 | 58 |
| Fast roll, rpm | 186 | 203 | 200 | 217 | 217 | 178 | 178 |
| Motor power, kw | 1.5 | 2.2 | 5.5 | 7.5 | 11 | 15 | 22 |
| Weight, kg | 400 | 500 | 1300 | 2000 | 2800 | 4300 | 5000 |
| Dimension, cm | 83×75×92 | 107×88×95 | 160×115×1113 | 180×140×118 | 198×154×123 | 205×181×150 | 225×181×150 |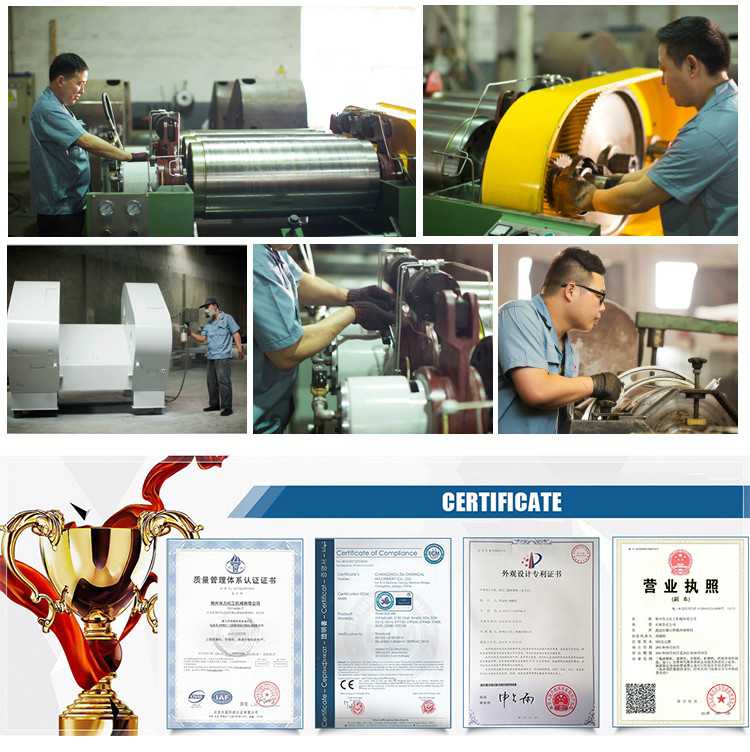 Immediately Consult
Tag:3 roll mill,ink,paint,manual,Big production