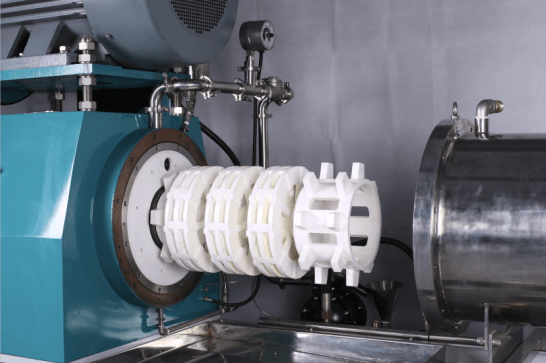 The whole ceramic sand mill made by us is for more and more new materials industry in the world. It is mainly for for the automobile power battery, ink jet, ceramic printing ink, ceramic powder, electron, PCB printing ink for circuit plate, nano coating, cosmetic, biological, pesticide suspension agent, lithium-ion battery diaphragm and other industries to provide special grinding needs, no metal pollution, it's new turbine distributor, advanced centrifugal separation plant material, using superfine grinding media, to make this kind of grinding equipment can quickly achieve grinding material requirements.
ZTW series ceramic sand mill characteristics
Patent mechanical seal, innovation of centrifugal separation device, make sure the material with no congestion, large flow, high efficiency grinding, reach tiny grinding media(0.1 mm and above)
Adopt special turbine ceramic disperser, ensure grinding on the material strengthen, high grinding efficiency, after grinding material can reach 50 nanometers, and narrow particle size distribution, can satisfy the need of nanometer material batch production.
The whole grinding rotor material adopts engineering wear-resting ceramics,high hardness, good tensile strength, zero metal ions pollution, conductive permeability, acid and alkali resistance, resistance to oxidation.
Silicon carbide cylinder cooling,heat faster, cooling effect is good, the temperature can be control below 25 degree.
Variable frequency speed regulating device, control in the condition of different linear velocity grinding materials, and meet the demand of different grinding intensity, speed range 0-2800 rpm, linear velocity control range 0-17 m/s.
Equipped with outer tube disassembling guide, tray, tear open outfit,clean, convenient maintenance, avoid beads and material loss.
Text fault display, fault alarm, equipment maintenance is convenient, safety use.
Frame into the whole board, more stable operation, low noise, long service life.
Inner barrel grinding option: Zirconium oxide, silicon carbide, boron carbide, nitriding stainless steel, alloy steel, engineering polyurethane etc.
Disperser option: Zirconium oxide, tungsten carbide, polyurethane, engineering polyurethane, hardness alloy steel etc.
| | | | | | |
| --- | --- | --- | --- | --- | --- |
| Model | Main motor (kw) | Volume (L) | Speed of main shaft (r/min) | Capacity (L/H) | Overall size (mm) |
| ZTW-1 | 4 | 1 | 0-3500 | 1-10 | 850*650*1300 |
| ZTW-5 | 11 | 5 | 0-2500 | 200-450 | 1250*1050*1480 |
| ZTW-15 | 30 | 15 | 0-1800 | 300-800 | 1550*1400*1900 |
| ZTW-30 | 45 | 30 | 0-1500 | 500-1200 | 1800*1400*1900 |
| ZTW-90 | 90 | 100 | 0-1200 | 800-2400 | 2300*1850*2250 |